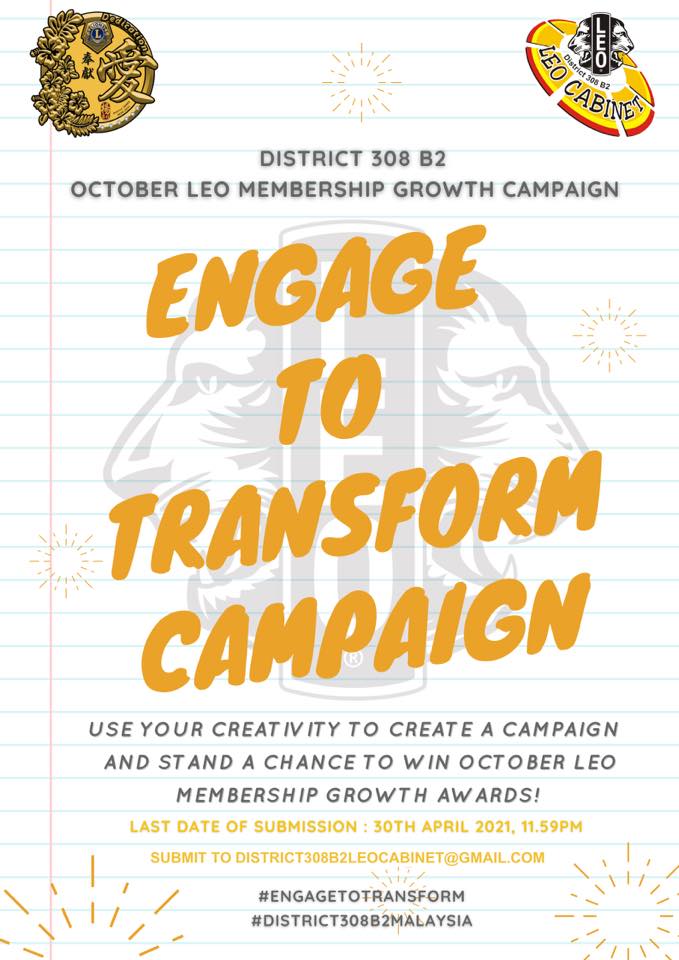 Stand a chance to win October Leo Membership District Award during Leo Forum ! Use your own creativity to create a campaign which related to our theme.
Judging will be based on creativity and impact of the campaign.
Objective of the campaign:
– Recruit non-leos to Leo, Alpha convert to Omega
– Bring all Leos together
– Get to know about Leo
Guideline (How to join?)
1. Promote your campaign on social media & hashtag along #engagetotransform #district308b2malaysia
2. Post a photo that you have successfully recruited members and tag us!
3. Remember to key in their name & details into MyLCI and send the screenshot to us at [email protected]
For more inquires, please do not hesitate to contact District Coordinator for Youth and Services Project, Leo Amanda Heah at 019-472 8225.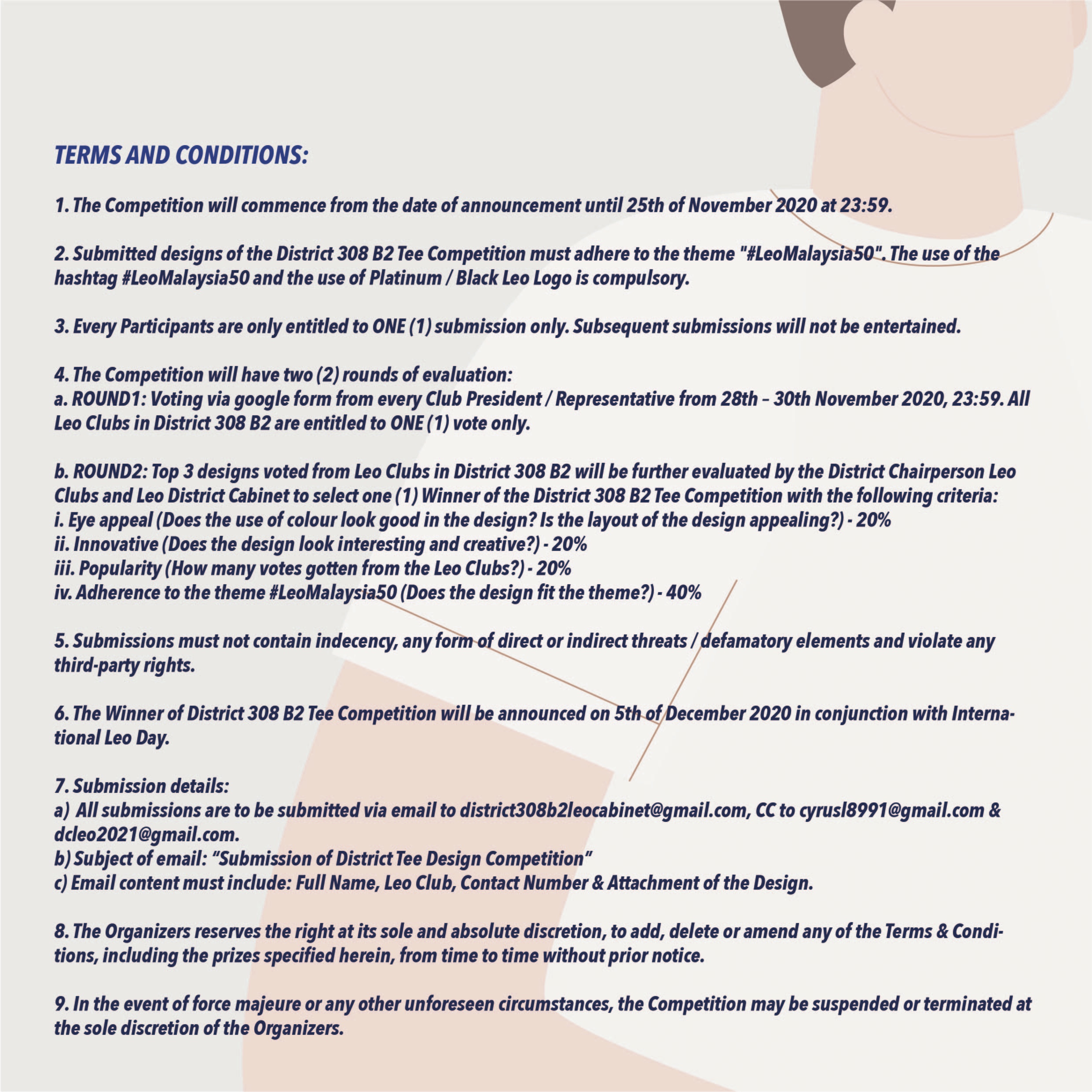 Did you know that we will be celebrating 50 years of service since the first Leo Club in Malaysia
was formed back in 1970?
To celebrate the 50th Anniversary of Leo Clubs in Malaysia, the Leo Cabinet would like to commemorate this joyous occasion with a symbolic District T-Shirt!
Take part in our District Tee Design Competition and share with us your ideas for your ideal District t-shirt in conjunction with the theme #LeoMalaysia50.
All Leos in the District 308 B2 are invited to take part in this competition to unleash your inner creativity! So don't miss out this opportunity as great prizes are awaiting for y'all! The submission closes on 25th of November 2020. Check out the poster below for more info
Having questions? Do not hesitate to contact District Coordinator for Youth & Services Project, Cheong Lok Tin at 012-592 3219 for more information
3. #LEOMALAYSIA50 Virtual Celebration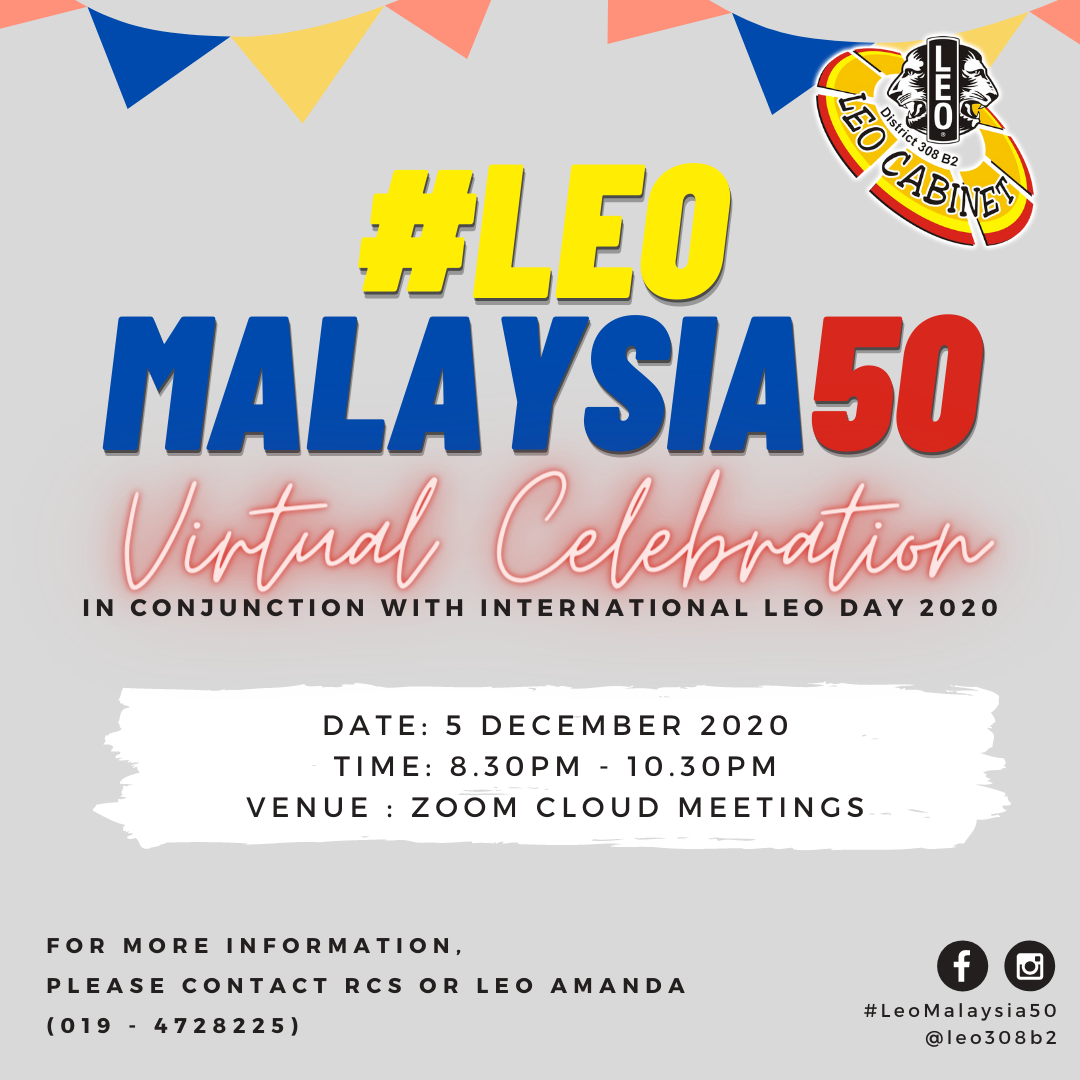 In conjunction with the International Leo Day, the District 308 B2 Leo Cabinet is organizing #LEOMALAYSIA50, a Virtual Celebration on 5th December 2020! 🥳🥳 Mark your dates and join us for an awesome celebration with many exciting activities! 🙆🏼‍♀️
Don't miss out the hype and register now 🤩🤩: https://forms.gle/r98koNEQckwcy9GPA